10 Tips for Picking Paint Colors
Why do we find one place appealing and are uneasy in another? Why are we attracted to one product over another? Color—whether architectural or in products—accounts for 60 percent of our response to an object or a place.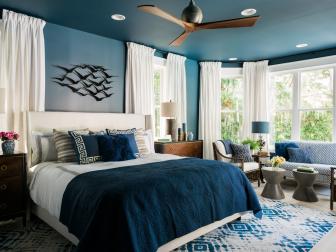 See how a color palette combining a rich navy blue with pure white accents makes this master bedroom an ideal space for resting and relaxing.

See the Master Bedroom
The "buzz" about color is usually called "color psychology." But the effects of color are subtle and significant; physical and psychological. Color use is not something that results in a definitive equation between "color and our moods," as is a currently popular expression. Wherever we go we respond to color, but the importance of color is often underestimated. Color use is important to us personally in our homes and in the places where we work.

Popular Videos: Picking Paint Colors
7 Videos
Check out our favorite "color of the month" ideas from the past few years.
If you're not sure where to begin with color, experiment in a powder room or bathroom, a small hall or area between rooms, or an accent wall. If you're doing your own painting, pick an area that's quick to do so you can see your results sooner, and be happy with it or change it. Look at the process as an adventure.

To get started, select a favorite color drawn from artwork, a rug, dishes and an accessory or furniture piece as a main color or accent.

When selecting a color, consider the mood of a room. In a bedroom do you want the feeling to be restful and soothing or dramatic and intimate? Soft, cool colors and neutrals usually create a quieter feeling while stronger colors are for drama.

Do you want a dining area to feel sociable and stimulating or appear formal and quiet? Warmer, contrasting and somewhat brighter colors add to a sociable atmosphere; deeper blue-greens and neutrals will give a more formal ambiance.

Do you want kid's rooms to create an active and exciting energy or an orderly and restful feeling? Be careful not to overstimulate your children with intensely bright hues. You may not know it, but some brighter colors can lead to unrest and irritability.

Pay Attention to Lighting
The reason why paint stores have light boxes for you to test paint chips:


Natural daylight shows the truest color;

Incandescent lighting brings out warm tones and yellows;

Fluorescent lighting casts a sharp blue tone.
So, a strong color might be too bright and overpowering when used on all walls or next to a large window, but it might be effective when used as an accent wall with indirect light.

Design by Andreas Charalambous
It helps to understand the terminology used to describe color.


Hue is what we call a color. Red is the hue; blue is the hue.

The value of the hue is how light or dark it is.

Saturation refers to how dominant the hue is. As we go from red to pink, the red hue becomes less dominant.

Intensity is the brilliance of the color. The pure colors such as red are more intense than the combined colors such as yellow-green. A stronger intense color usually has a more dominant hue.

If you want a more active space, consider introducing stronger, more intense color. Even if you want a light-colored room, choose colors that are slightly more saturated than off-white or light pastel. Very light color can feel bright and stark when it appears on all surfaces in a room. However, two or more medium-light, closely related pastel colors can create a luminous effect when used in the same room.

Design by Shelly Riehl David
Boost your confidence by testing colors on poster board or large areas of a wall. Don't be afraid to go beyond your comfort zone: Consider strong, vivid colors or soft, deep neutrals like chocolate brown or olive green as main or accent colors. Or add drama with a stronger color on the ceiling. Tinted ceilings can dramatically change the whole look of a room.

Add Depth With Decorative Finishes
Transform flat, dull walls into interesting and personal spaces with subtle or dramatic visual texture and broken color. Burnished mineral/metal finishes and layered colored glazes add depth. Some examples of softly reflective metals are mica, copper, pewter, bronze and, of course, antiqued silver and gold.

Consider walls as planes of color, and see how they interact when viewing one next to the other in adjacent rooms. Approach it like a composition: You're in one room, but you're going to see a piece of another room through it. So as you're choosing colors, consider how they will flow from room to room to create your picture.

A small color wheel is a great reference tool for modifying and intensifying two or more colors. For example, red and green, which are complementary (opposite) colors, are most intense when used together. You may be surprised at how many combinations function beautifully together, and you may even become attracted to entirely new color palettes. The color wheel also illustrates the visual temperature of a color. Draw a line from the yellow-green mark on the color wheel all the way down to the red-violet; you'll see that all the colors on the left are warm and the colors on the right are cool.

Number one color rule for a small space? There are no rules! Mixing colors can help bring a personal touch to your space.
Play Up Monochromatic Schemes
Think one color is boring? Create bold or subtle variations within one color group with contrasting paint finishes. For example, use closely related colors, or try a single color in different finishes, for walls and trim in one space.

For an accent color, select a warmer (more toward reds) or cooler (more toward blues) color to complement your main color group. For a quieter ambience, make sure your colors are not extremely bright. White or an off-white tint can be a striking accent when used as trim with a monochromatic color group.

Design by Nicole Sassaman
Choose Different Paint Finishes
A single color used on walls and trim takes on new significance when applied in different finishes. For example, wall and trim colors can remain the same hue, but use an eggshell (matte and less reflective) finish on walls and a satin or semigloss on trim. The color will appear slightly different on each surface. It's a good way to create a cohesive look in rooms with many windows and doors, and relatively little wall area.

The Latest From Our Blogs
Catch up on the latest HGTV show and design news right here.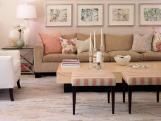 Found a living space you love in HGTV's
Photo Library
? Get the look in your own home with products from Wayfair.
Now Viewing
Follow these helpful hints for your next painting project.

DO buy a quart first instead of a large quantity in case you're not committed to the color. Paint a piece of foam board and move it around the room to see how the light affects the color at different times of the day.

DO take the time to prep the area. Gather artwork and accessories in one box and place out of the way. Move furniture to the center of the space (or into another room altogether), wipe down walls and tape off molding. Cover the floor with a drop cloth, because plastic sheets can be slippery and messy.

DO remove all of the hardware — switchplates, doorknobs, drapery hardware, etc. — and place the parts in a plastic bag.

DO gather everything you'll need to get the job done and set up a "paint station" in or near the room. Include a paint tray, painters' tape, brushes, rollers, stir sticks, a paint can opener, rags, paint thinner, a screwdriver, hammer and ladder.

DO purchase one good paint tray and line it with inexpensive disposable plastic tray forms. Aluminum foil works well in a pinch.

DO calculate how much paint you'll need. It's always best to get it mixed at one time.

DO choose the appropriate rollers and brushes. Specific rollers are required depending on the paint's viscosity (i.e. how well it rolls onto the surface) and the wall's texture. Brushes with angled tips are best for painting on and around trim.

DO wear appropriate clothing (you will get paint on you somewhere) and slip-on shoes for easy access in and out of the room.

DO prime the walls if going from one extreme color to another. For instance, if the walls are tan and you want deep green, paint first with a primer tinted to match your intended top coat to ensure you'll end up with the true color.

DO expect to apply at least three coats when painting walls red — one coat of primer and two coats of paint.

DO keep a stash of paint for touch-ups in a small plastic cup or glass jar, like margarine containers or baby food jars (thoroughly cleaned, of course). Be sure to label each container with the color and brand name.

DO keep inexpensive foam and artists' brushes (dollar-store variety) on hand for touch-ups on trim and hard-to-reach spots.

DON'T rush. You'll achieve the best results if you practice a little patience. Plan on making it a full-day affair and you won't get frustrated.

DON'T pour the paint from the can until you notch holes into the paint can rim. Simply hammer holes around the metal rim with a nail to create holes for the paint to drip back down into the can.

DON'T paint out of order — start with the ceiling, then walls, doors and woodwork and finish with the floor.

DON'T apply latex on an oil finish and vice versa without first sanding the walls (remember to wear a mask) and wiping away the dust particles with a tack cloth. Apply a primer of the same composition (oil or latex) of the intended topcoat.

DON'T paint directly over wallpaper. If possible, remove it all with a steamer or paper-removing solution and prime. If it's old and not coming off, remove the loose pieces (repair with joint compound to smooth out the surface), sand and wipe with a tack cloth, then prime.

DON'T close off the room. Keep doors and windows open to allow for proper ventilation.

DON'T underestimate how long it'll take you to get the job done. Allow at least 24 hours to dry before bringing everything back into the room. Allow two weeks to 30 days to cure before washing or wiping.

DON'T put off cleaning your brush and rollers if you plan to use them again.

DON'T dispose of paint irresponsibly. Check your area for local hazardous waste recycling centers.

DON'T
reattach the lid without cleaning the rim of the can. Also, to further prevent inadvertent splatters, place a paper towel or rag on top of the lid, then hammer to secure
Source: HGTV
TOCON Pro Painters
http://www.tocon.ca